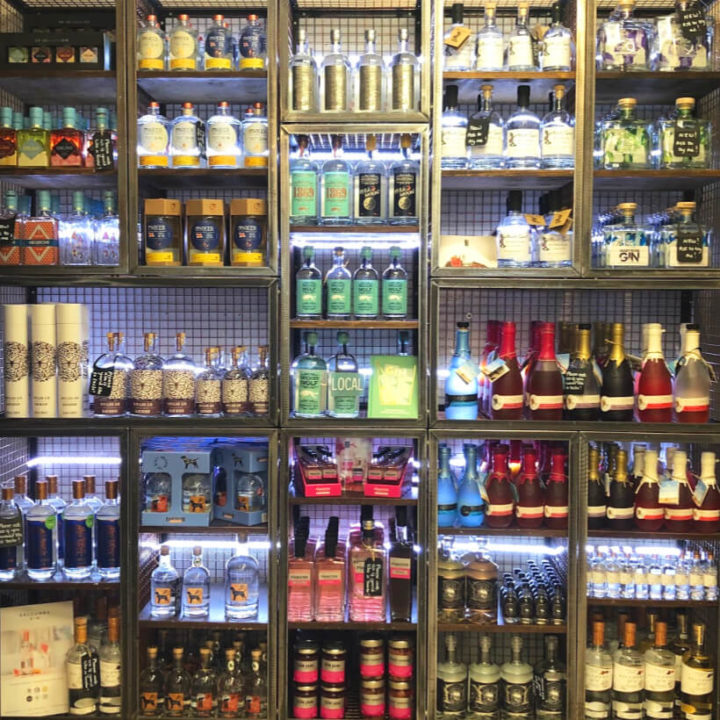 Summertime Gin-spiration
Floral? Tropical? A hint of spice? With our new gin wall 'good to glow', it's time to find the gin that tickles you pink. Our gin-tasting events at Johns of Instow and Appledore welcome people from across North Devon & will help you and your friends to do just that – taste spectacular gin, with free samples and plenty of inspiration from our knowledgeable suppliers.
This is also the chance to discover the uplifting stories and differing personalities behind our local gin brands, so that you can enjoy matching one up with someone special in your life. It's a thoughtful way to buy a gift for someone otherwise just too darn hard to buy for!
Furthermore, we'll be full of tips on how to dress-to-impress your gins ready for your summer parties (spoiler-alert: it's no longer about the lemons!).
So, who's visiting next on our gin event calendar?
Papillion Gin: Saturday 3rd August, Instow 12.00pm – 4.00pm.
Salcombe Gin: Saturday 10th August, Appledore 12.00pm – 4.00pm
Gin Tasting Near Me:
Papillion Gin Tasting Event
Location: Johns of Instow
Unearth the wonderful story behind Papillion Gin, that beautifully blends a plucky ambition, the romance of Dartmoor, a celebration and preservation for nature's wildlife, and some perfectly sophisticated flavours…then bottled with true elegance. This award-winning, small-batch gin is not to be missed, so be sure to note down our free gin tasting date: Saturday 03rd August, midday until 4.00pm, at Johns of Instow Deli & Café.
Salcombe Gin Tasting Event
Location: Johns of Appledore
With a strong coastal heritage, Salcombe Gin is perfectly positioned to appeal to those who appreciate the character of Instow and Appledore. A seasalt fuelled passion, this exceptional range of gins have scooped a glittering array of awards. It's pure class in a glass, and we can't wait to welcome you over to try it. Join us on Saturday 10th August, midday to 4.00pm, at our Appledore Deli & Café.
Make our gin event a tonic for the soul…
Our apologies, a cliché line to gin and bear, but it's true. When you pop over to Johns to take advantage of our free gin-tastings, allow time to experience our café-in-a-deli, a ferry trip across the estuary to Instow or Appledore store or simply a nostalgic, sweet treat at our nearby beach hut. Alternatively, take one of our pre-filled picnic hampers to enjoy on the beach afterwards! Whatever your style, we've plenty of ways to extend the feel-food factor of those G&T bubbles.
'Chin-chin'…or perhaps 'gin-gin', we hope to see you there.
Johns of Instow team.
(ps. Look up our event on Facebook and hit the 'Interested' button. Not only will it help us, but you'll get a helpful reminder nearer the time too).
---