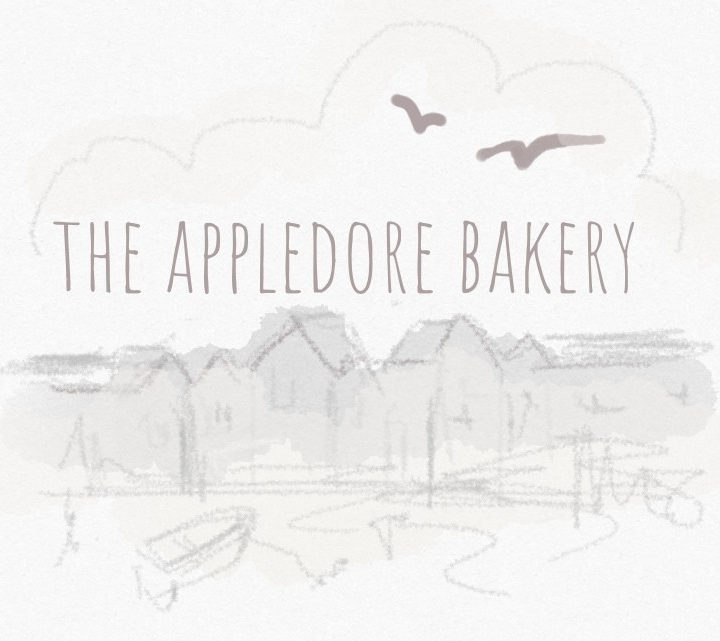 We Started a Bakery During Lockdown
Hi, I'm Kat and I live with my partner Joe and our two sons in Appledore. This is the story of how, together, we started The Appledore Bakery.
Appledore School closed its doors to all pupils the week before the end of term. Lockdown came to us all on Monday 23rd March.
I had a bug. No fever and none of the other symptoms of COVID 19 bar a cough, and an annoying sniffle. B & Q, where I worked part-time had furloughed me as they too were closed, but Joe had fallen through the cracks and into the bracket of 'being in between jobs'. He hadn't been added to the payroll in time for the government cut-off point, and his previous job had ended in January. He couldn't be furloughed and his was our main income. It was a worrying time.
Home-schooling hadn't really happened in our house for two weeks and now it was officially half-term. The weather had been gorgeous every day, but we had been self-isolating as per the government guidelines regarding households and new coughs, staying within our 4 walls and garden and only venturing out of our front door for our daily exercise when we were absolutely sure that no-one was about in the evening.
But, we hit a big problem on 23rd March. We were 9 days in and we had no food left! We couldn't get a delivery slot anywhere. They were available weeks in advance, but nothing at all now I needed it. I started to panic, but then I remembered the list of names and numbers on the Appledore Community Volunteers Scheme leaflet that had come through our door a few days earlier. One of them was a Mum of someone in my younger son's class, whom I knew a little from the school run. We had an even bigger problem though. I couldn't call John's to order anything as we had no landline, hardly any money and no credit on my mobile!
Fortunately, we still had Wi-Fi. I WhatsApp'ed the Mum I knew, who was luckily one of the volunteers for our street. I immediately felt awful and pathetic for having to put our situation upon her. I only had a cough and a cold, but rules were rules and it was only day 9 of 14.
What happened next was a beautiful illustration of our community. She phoned John's and asked if they could phone us so that I could place an order and pay for it over the phone, and then she would collect and deliver it. Genius! I missed the first call because of some minor domestic dispute over Lego or something, and I broke down and cried.
Luck was on our side as a couple of hours later they tried again and I pounced on my phone. The staff at John's we're so busy with everyone's orders, yet they were patient, understanding and wonderful. Our order was indeed collected and delivered right to our door. The boys had patiently been keeping an eye out of the window.
It was a lifeline and I can't tell you the relief I felt hearing the boys shout out 'she's here' and seeing her car pull up outside. We could eat!
We ordered one more time from John's during lockdown using their now established delivery service.  When there was no sign of it arriving, I again started to panic (it was a very panicky sort of time!) and I put a stricken message out on the Community page asking for help as the shop was about to shut! I was immediately inundated with many kind offers. The manager at John's saw the message too and phoned to tell me that it had already been delivered. We found it inside next door's porch! Panic over thanks to our wonderful community once more.
*
Joe and I had been discussing the idea of opening a bakery for the last year or so, an idea that had originally stemmed from me, but Joe was the one who had acted upon it.
I have a long-standing obsession with bagels after discovering them over twenty years ago. I had also written some blogs in 2019, one of which was about the joys of walking barefoot on the beach and how grounding I found it. I got really into the whole concept of barefoot walking and discovered that there is a whole movement out there.
In the meantime, Joe had taught himself how to make bagels from scratch and so, the idea of Barefoot Bagels was born. He has many years' experience within the catering industry, and for the last few years, had been working specifically with sourdough. As a baker he is completely self-taught, but as we soon discovered, had a canny knack for it. It was his idea to make the bagels sourdough and then he moved onto sourdough bread, a notoriously time-consuming process, the results of which are affected by many random elements, but he persevered. For my part, I had previously dabbled in illustration, retail and marketing, so I designed a few logos and endeavoured to keep the children alive and happy.
We had already registered our business and bought the domain name, but that was as far as we'd got prior to lockdown. He'd been practising, mixing and experimenting in his spare time, sometimes successfully, sometimes not. I'm so proud of him because he kept on keeping on, learning, researching, pushing himself and just getting better and better.
We were originally planning on operating as a little 'side hustle' alongside our main jobs with the hope that one day it would grow and become our family business a few years down the line.
And then B & Q contacted me. They were opening again and wanted me back at work. I didn't want to go. It felt counterintuitive that we had been self-isolating, we were safe, lockdown was in full-swing, and yet I was being asked to return to unpacking boxes in Barnstaple, possibly bringing back all sorts of germs and bacteria with me to a closed down and protected village. The answer was no way!
I used up all my remaining holiday and any leave days I was owed and asked for unpaid leave until the end of the month (May). But now we had no furlough, no jobs and absolutely no income!
We plunged everything we had into getting the bakery up and running! It was our way of helping out, giving people healthy bread as well as feeling useful. But it was also to say thank you to our community for looking after us.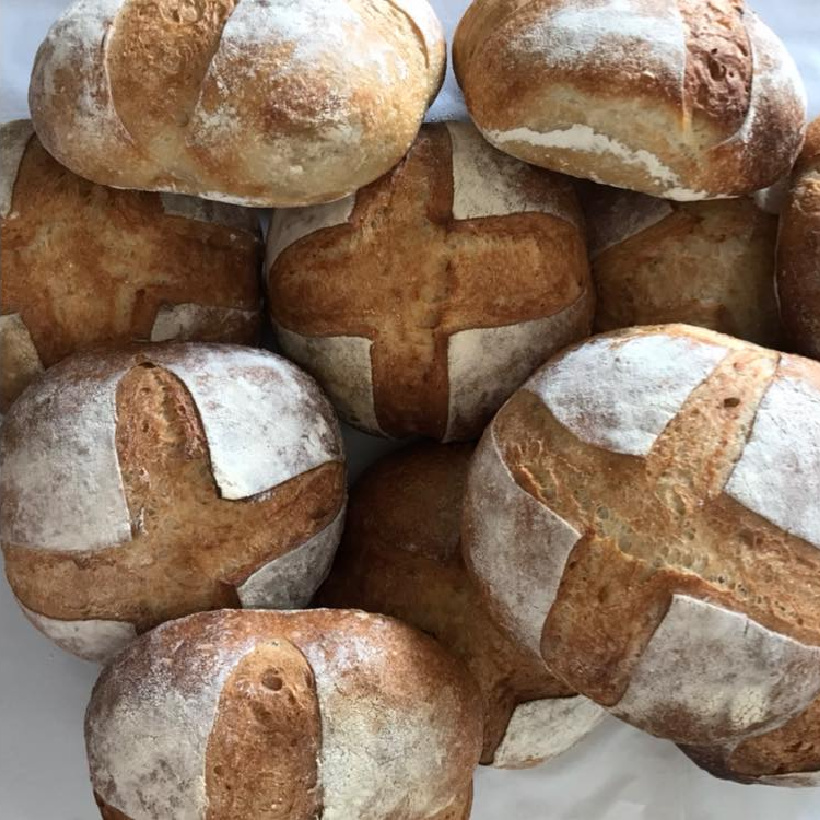 Joe practised with increased relish and enthusiasm. I took pictures of the varying results for Instagram, all the time building our website and waiting for the time when we could actually start selling. At first we gave out some free ones to family, neighbours and friends, placing them carefully on doorsteps, knocking and leaving, hoping that they would get found.
Slowly people started to contact us to ask where they could get some bread, so with the help of friends, word spread and a few weeks later we launched our website on Facebook.
So far, it's been long hours and hard, but enjoyable work. Our children's home-schooling has been either dough-based dilemmas, Horrible Histories or Minecraft, but it's been great to build it up the business as a family. We've enjoyed being at home altogether, rather than the passing ships we were on our separate ways to work and school.
Because of this pandemic, we've realised our dream and started a bakery, within the village. Without both, the global crisis and the village community, I don't think it would have happened.
And now, we've started working with Anthony and Sue, selling our bread and bagels in their shop and deli too. We're also working with The Beaver pub and The Market Street Kitchen ready for when they reopen, providing sourdough bread and other items for their menus, plus collaborating with Serene Skye Fishing as people seem to like their mussels and our bread together.
We're equally terrified and excited about the future, but our dream has come true with the help of the people of Appledore. I recently used the following quote on our Facebook page and I think it sums up our working closely with John's and other local businesses perfectly.
"And with the rise of good bread also comes, hearteningly, the rise of the community bakery, returning bread to its old role at the heart of village life".
(The Guardian)