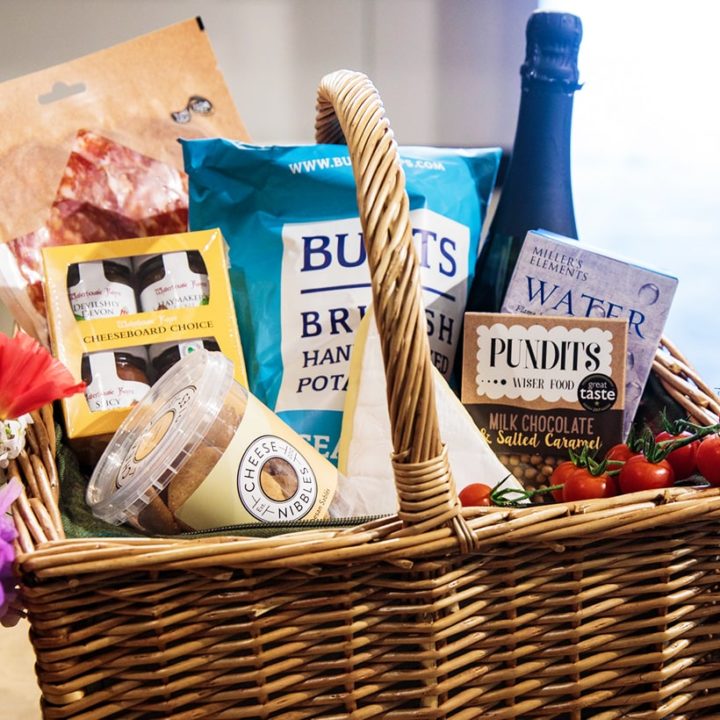 Top 10 reasons to enjoy a Johns picnic in North Devon
New to Johns of Instow and Appledore, our willow picnic hampers with fitted cooler bags are proving popular; their combination of style and practicality meaning we've already sold many straight off our shelves!
However, we've kept a good few back, purely so that we can lend them out to help you enjoy the delights of our Deli's on the beach, the moor, a boat or wherever else takes your fancy. All we ask is that you leave a £25 deposit (the cost of a new hamper) and then return it in good condition within 72 hours. Find yourself associating the hamper with beautiful memories? Looking forward to filling it up again? No problem, just keep it.
You can choose whether you would rather select your own picnic goodies from our Deli (minimum £20 spend) or enjoy the convenience of us having it completely ready upon collection. We've  various pre-filled options, simply click here to find out more.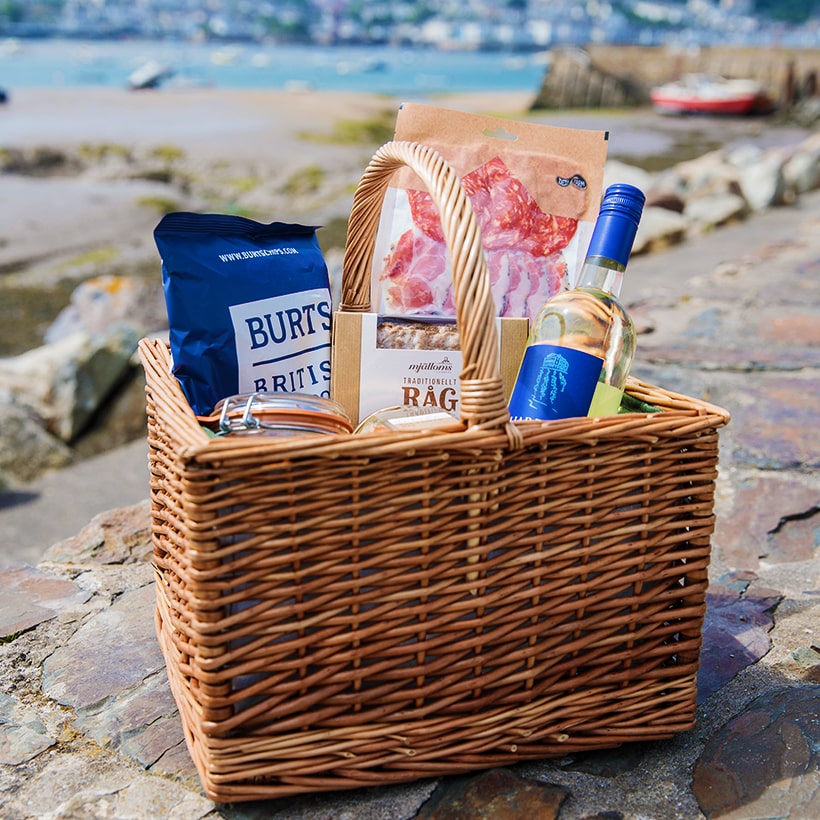 So, loving the idea and already thinking about who you'll take first and when? Our following 'Top Ten' may help.
Fuss-free family time
We know preparing for a family picnic on the beach can leave you worn out before you even leave the door, but pre-filled picnic hampers aren't always such a delight if you've little fussy-eaters. That's why you're welcome to choose your own sweet and savoury treats from either of our deli stores (minimum £20 spend). From gourmet sausage rolls and scotch eggs, to local cheeses and home-made salads, plus of course our amazing array of cakes…we've more than enough to keep everyone happy.
The way to the heart is still through the stomach!
Love Island we're not (thank goodness!), but Instow certainly attracts a lot of first dates! It's hardly surprising given the beauty of Instow beach and the high calibre of our seafront restaurants and bars. However, if you're really keen to make a great impression, it's time to shake things up a little bit. You need an idea that shouts "thoughtful" to the world, but whispers "easy" to you, right? Welcome to our premium picnic hampers.
Whether this is your second meet-up, a precious date-night without the children, a beautiful proposal, wedding anniversary or time to raise a glass with a friend in honour of a passed loved one, Johns picnic hampers will make the moment feel super special. We've prosecco or champagne chilling in the fridge ready, or it's just a short stroll to our beach hut for top quality coffees, teas or an affogato.
With 72 hours to return the hamper, there's no need to hurry back at sunset either… or why not gift the hamper as a souvenir of your special time together? (No worries, we'll soon figure it out if you don't return for the £25 deposit).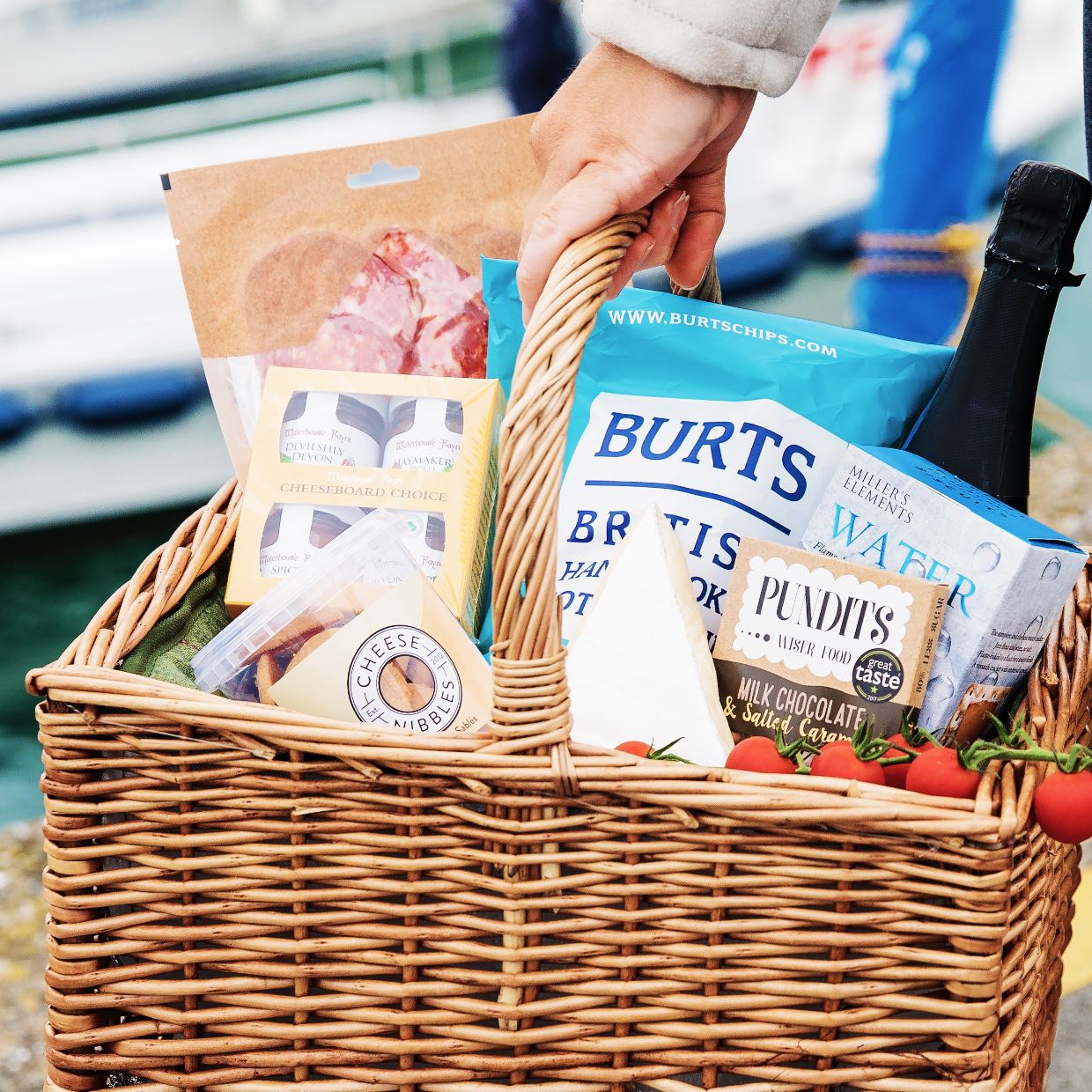 The perfect present!
Everyone has someone in their life who is forever hard to buy for, yes? That's why we've made it possible for you to offer somebody special the chance to enjoy a Johns picnic experience, via our gift vouchers. Simply order them online or pick them up in store, complete with a gift card. The lucky recipient can then choose whether to select a pre-filled picnic hamper, or choose their own treats, according to the value you've gifted. (As a guide, if gifting for two people to enjoy, allow a minimum of £20, or £40 or more for a truly luxurious, pre-filled hamper).
Donning the deckshoes?
We know that owning a sailing yacht or motorboat usually comes with a lot of maintenance; it's rarely all about mojitos under the mainsail or a shiraz at sunset! Take time out to reflect on all you've achieved and the beauty of our local Devon coastline, by booking out a pre-filled picnic hamper to enjoy at anchor. Available for collection at our Instow café and deli, (just across the road from Instow Sailing Club), it makes life a breeze.
A birthday party; we can even supply the cake, candles, cards and gifts.
Add to the experience by catching the ferry between Appledore to Instow! See their time-table here.
Got a corporate deal to seal? Keen to reflect that your company or brand approaches life in a different way? Our picnic hampers just became professional.
Joining in on one of our community events? Ready to watch the races? Art, culture, sandy toes and salty air…our picnic hampers are a hassle-free way to add to the experience.
Stay-cation? Reserve a hamper and allow us to pre-fill it with local delights that you may never have otherwise discovered. It's the perfect way to feel as though you're on holiday, even if home is only a short drive away.
Just because. Yup, that's it at number 10…and the best reason ever.Just because…life is precious.
Just because…you remembered.
Just because…you care.
Just because…it's high time you did something special together.
Just because…you've never done it.
Just because…the blog told you to (-;
To discover more about our new picnic hampers and reserve yours, please click here for a booking form, or give us a call at Instow (01271 868310 ) or Appledore (01237 429065). 

Johns of Instow & Appledore.
Ps – When you hire a hamper, please share your pics by tagging #johnssnaps; we'd love to see where our hampers go on their adventures!